Chanteloup pagoda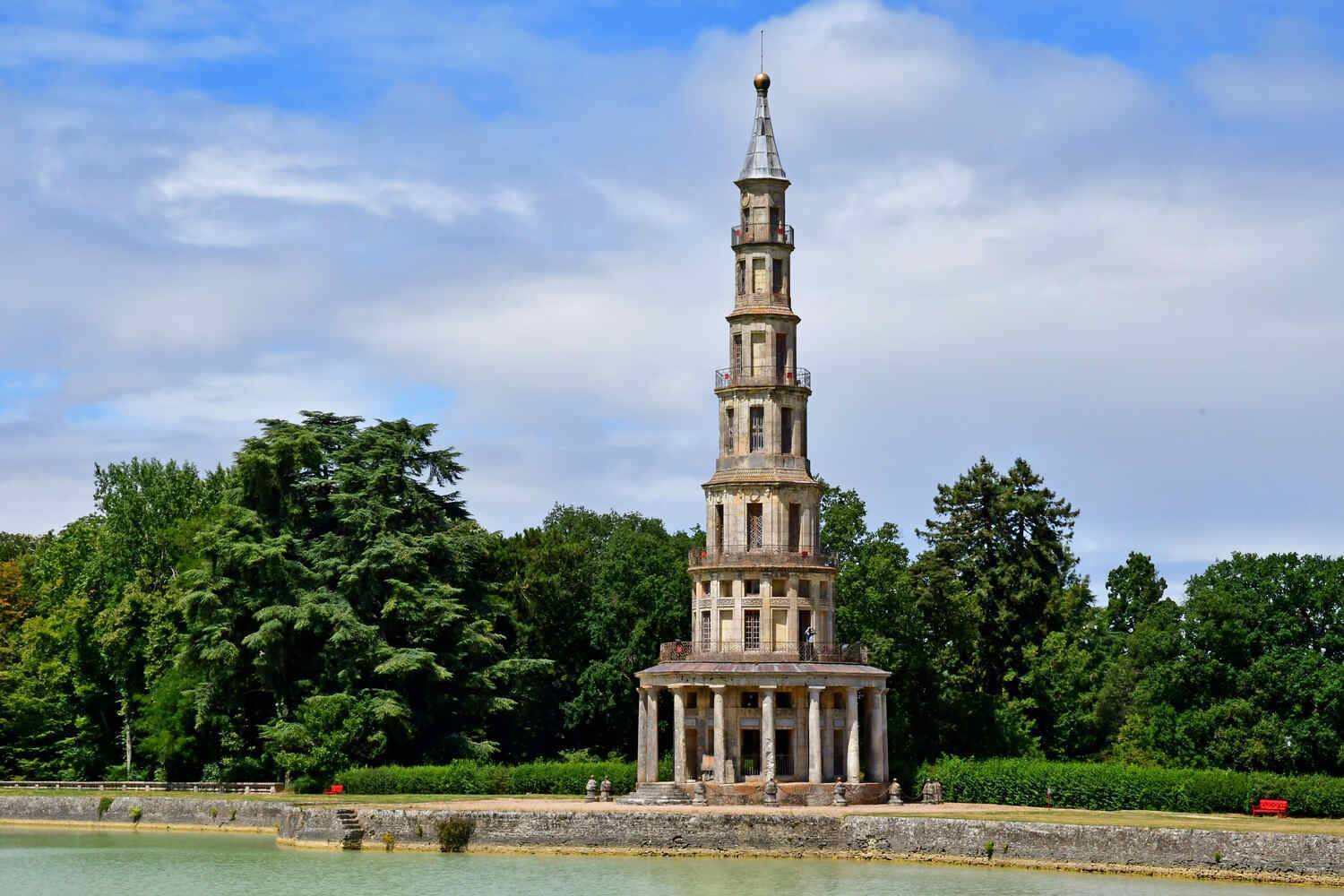 Visit an unusual monument during your holiday in Tours


Learn about the history of this famous tower and its gardens
On the heights of the town of Amboise, the
Chanteloup pagoda
was created in 1775 on the initiative of the Duke of Choiseul.
He wanted to pay tribute to his most important friends.
The building is
44 metres high,
with 16 columns and 16 pillars and 7 floors.
When you enter the building, the dome-shaped levels are accessed one after the other by narrow, sloping stairs.
The
panoramic view
of the Amboise forest and the Loire Valley completes the climb in splendour.
The original
Anglo-Chinese garden
was extended during the 18th century and transformed into a "French garden".
Each architect and gardener put his or her own touch to the gardens and they soon became as famous as the
Chanteloup pagoda
.


Experience the activities of the site
To learn while having fun, the owners of the site offer several activities in the Chanteloup estate.
Visit the Chanteloup pagoda
Climb the 7 floors and admire the breathtaking view of the surroundings.
Discover the park and gardens
Stroll through the 14 hectares of the park to contemplate the water mirror and see the pagoda from a different angle.
Playing old-fashioned games
Throughout the visit, step back into the 18th century and enjoy the various wooden games with your family;
Encounter with the estate
In the small iconographic museum, meet the historical figures of Chanteloup. You will learn more about the place and its evolution over time.
The jewels of the park
Take the time to wander through the Chinese garden of Fû Hsi where an extraordinary serenity reigns.
Then, take a small boat on the water mirror for an exceptional trip.
All the practical information you need to know
From your
Best Western hotel
in the
centre of Tours
to the Chanteloup pagoda, it will take you 35 minutes by car.
The Pagoda is accessible from March to November.
Free and guided tours are offered to the public. An
escape game
in search of the "Mystery of Chanteloup" will allow the whole family to learn while having fun.
We advise you to buy your tickets directly online to avoid the crowds at the entrance to the monument.
Sleep in a hotel in the centre of Tours
For a pleasant stay, put your bags down in our
charming hotel near Tours train station
.
Ideally located, it will allow you to get around on foot and using local transport.
Each room has been meticulously decorated in a modern atmosphere. The reminder of the 7th art will make you feel at home from the very first moment.
Don't wait any longer and book your Best Western hotel in Tours now!